How to Explain the History of Communism to Mental Patients
Writer: Matei Vişniec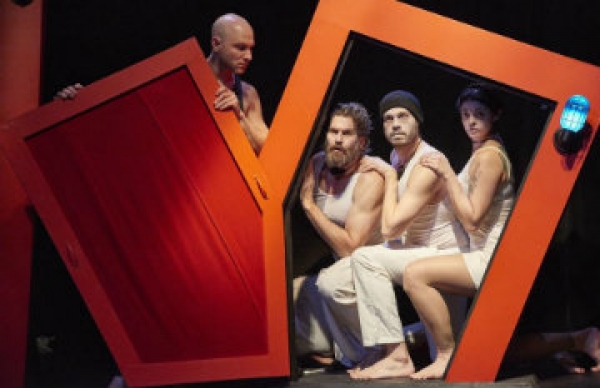 Writer: Matei Vișniec
Translation: Jeremy Lawrence, Catherine Popesco

Director: Balázs Zoltán

About the play:
The young Soviet writer Yuri Petrovsky receives the State Prize, directly from Glorious Comrade Stalin himself, for his short stories on building socialism. The Writers' Union picks him out for a special task: they mandate him to give ideological training to the insane. So, he explains the story of communism through a series of short narratives to the patients of a mental institution. His commanders' instructions were: "Use all of your talent and patriotism so that our mentally ill can also feed on the hope that the Great October Socialist Revolution kindled in the hearts of workers of the world...".

About Trap Door Theatre:
Beata Pilch's main mission is to present contemporary European works. Her theater is characterized by the combination of old traditions and modern tools to illustrate the absurdities in today's modern society. The theater company established its permanent home in Chicago in 1994, where American audiences have since enjoyed more than seventy of their performances.
Players:
Beata Pilch
Ann Sonnewille / Nicole Wiesner
Simina Contras
Dennis Bisto
Michael Garvey
Pavi Proczko

Set Desinger: Aaron O'Neill
Costume Designer: Rachel Sypniewski
Music Composer: Danny Rockett
Dramaturg: Milan Pribisic
Makeup Desinger: Zsófia Ötvös
Lighting: Richard Norwood
Assistans of director: Emily Lotspeich, Gary Damico
Opening night: March 16, 2016, Trap Door Theatre, Chicago, USA
Tour:
ATELIER International Theatre Festival, Baia Mare, Romania – 2017
International Theatre Festival, Constanta, Romania – 2017
Reduta Cultural Centre, Brașov, Romania – 2017
Sibfest International Theatre Festival, Baia Mare, Romania - 2017
Budapest Puppet Theatre, Budapest - 2017

Awards:
Danny Rockett - JEFF Award – Best Original Music – 2016
Zoltán Balázs – Best Director – International Festival in Baia Mare, Romania - 2017