Gardenia
Writer: Elżbieta Chowaniec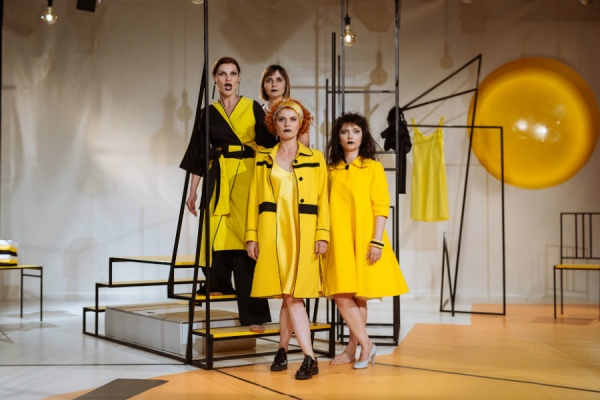 Gardenia is produced within the European project Fabulamundi. Playwriting Europe, third edition, funded by the European Commission within the program Creative Europe 2017-2020.
Main Partner: Hungarian Institute.
Translated by Luiza Săvescu
Director: Zoltán Balázs

Gardenia tells the story of four generations of Polish women from the same family who are fighting with their schemas, convictions and heritage. All the women present their story at the same age – great grandmother, grandmother, mother and daughter – thirty three years old and get through historic circumstances starting with the second world war till the present time. These circumstances shape partly women's life but what influence them directly, they would say, is their mother. To what extent does this happen, we let you discover yourself, in a show where the director's vision blends the theatre with the opera arias.

Together with the actresses Antoaneta Zaharia and Paula Niculiţă, who have been part of the theatre team for over 15 years, you will discover for the first time on our stage the new employed actresses Simona Popescu and Madalina Ciotea.

Elżbieta Chowaniec was born in 1982 in Kraków. She is a playwright and dramatist, author of plays for adults and children. She is a graduate of Katowice Film School with a degree in Film & TV Production, Łódź Film School with a diploma in Screenwriting, and Warsaw University with a Journalism degree. She attended the School of Drama at the Drama Laboratory in Warsaw. She has participated in numerous playwriting seminars and workshops with authors like Mark Ravenhill, Nikolaj Kolada, Iwan Wyrypajew. She is a recipient of the Theater Scholar Award from the Ministry of Culture and National Heritage.

Gardenia is her first work, and was staged in 2007 at the Drama Laboratory, Warsaw. Since then it has been translated into numerous languages and staged in Hungary, Slovakia, Russia and Romania. Since her debut in 2007, her plays and their adaptations have premiered over 20 times.
"Fabulamundi Playwriting Europe: Beyond Borders?" is a cooperation project among theatres, festivals and cultural organisations from 10 EU Countries (Italy, France, Germany, Spain, Romania, Austria, Belgium, UK, Poland and Czech Republic). The network aims to support and promote the contemporary playwriting across Europe, in order to reinforce and enhance the activities and strategies of the professionals and artists working in the sector and to provide the theatre authors and professionals with opportunities of networking, multicultural encounter and professional development.
Actors:
Antoaneta Zacharia, Paula Niculita, Simona Popescu, Mádálina Ciotea

Set designer: Constantin Ciubotariu
Costum designer: Andrada Chiriac

Opening night: 31 March 2018, Odeon Theatre, Bucharest, 2018
Tour:
Journées Théåtrales de Carthage Tunisia, Tunisia - 2018
Nemzetközi Színházi Fesztivál, Ploiești, Romania – 2018
FNT Nemzeti Színházi Fesztivál, Bucharest, Romania - 2018
FITO International Theatre Festival, Oradea, Romania – 2018
Awards:
Constantin Ciubotariu – Best scenery award – FEST(in) pe Bulevard, Bucharest, Romania - 2018
Balázs Zoltán – Best director award - FITO International Theatre Festival, Oradea, Romania - 2018