Macbeth/Anatomy
Writer: William Shakespeare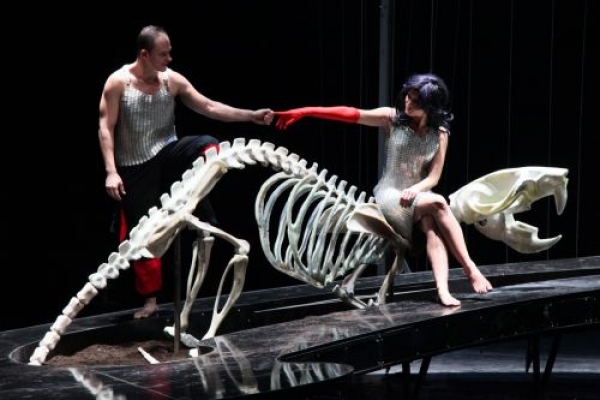 Translated by Lőrinc Szabó
Director: Zoltán Balázs

Macbeth/Anatomy is Maladype's adaptation of one of Shakespeare's darkest tragedies. This version focuses on the internal transformations of psyche due to external effects.
'Anatomy' relates to the research and investigation devoted to the examination of distorted personalities. This extremely sensitive physical and mental study determined the rehearsal process and gives space for character development within the play. The performance infuses corruption with sex, blends gentle with rough, and combines natural and abstract elements. Macbeth/Anatomy brings shivers down your spine.
The set, designed by director Zoltán Balázs comprises of specially built sculptures created by Katus György. It features unique guitars custom built by Péter Üveges and costume designs by Mari Benedek.
Cast:
Macbeth: Ákos Orosz
Lady Macbeth, one of the Three Witches: Andrea Petrik
Banquo, Macduff, Donalbain, Doctor, one of the Three Witches: Zoltán Lendváczky
Lady Macduff, Malcolm, Fleance, Seyton, Gentlewoman, one of the Three Witches: Erika Tankó
Porter: Péter Pál Szűcs

Dramaturg: Zoltán Balázs
Set desing: Zoltán Balázs
Costume: Mari Benedek
Sculptures: György Katus
Guitar design: Péter Üveges
Music: Péter Pál Szűcs
Light: Zoltán Papp
Sound: Péter Kollár
Assistant of director: Gergely Pelbát
Production manager: Katalin Balázs
Co-production partners:
Trafó House of Contemporary Arts, Teatro Potlach, Fara Sabina/Teatro Tor Bella Monaca, Roma, Shakespeare Festival, Gyula, New European Theatre Action (NETA Network), European Shakespeare Festivals Network, Gdansk

Opening night: 6 September 2013, Trafó House of Contemporary Arts, Budapest

Tour:
Shakespeare Fesztivál, Gyula, Hungary - 2014