Platonov
Writer: Anton Pavlovich Chekhov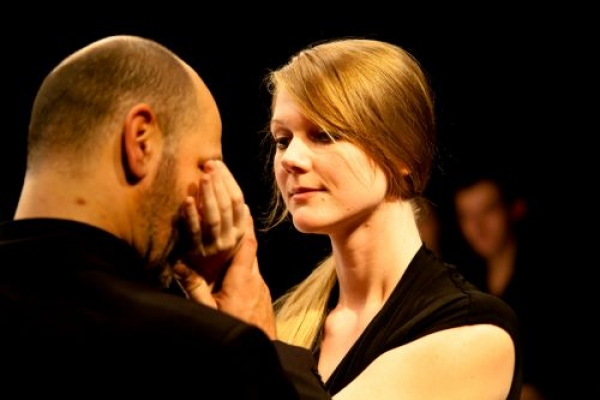 Translated by János Elbert
Director: Zoltán Balázs

Platonov, also known as 'A Play Without a Title' is a drama Chekhov wrote but never finished. Maladype's Platonov however isn't a typical adaptation of the play, and doesn't take the traditional approach towards creating a Chekhov piece.
The drama revolves around a pool table and adapts according to the constantly changing positions of the balls. The space transforms into a pool tournament as spectators become participants. Maladype's brutally honest performance portrays the contradictions we face between our inner conflicts and our external circumstances.
Platonov, a disillusioned provincial school master, slowly deteriorates as his environment deceives him. He submits to his society and consequently suffers multiple stabbings by pool cues. Chekhov, a harsh critic of society uses Platonov to convey the crudeness of the world using a universal language that's familiar and accessible to all.
Cast:
Anna Petrovna Voynitseva: Judit Ligeti Kovács
Sergei Pavlovich Voynitsev, her stepson: Zoltán Lendváczky
Sofia Yegorovna, his wife: Kamilla Fátyol / Kata Huszárik
Nikolai Ivanovich Triletsky: Ádám Tompa / Mátyás Lazók
Maria Yefimovna Grekova: Vica Kerekes / Réka Thália Fekete
Abram Abramovich Vengerovich: Zsolt Páll
Isaac Abramovics Vengerovich, his son: Zénó Faragó / Gábor Jászberényi
Mihail Vasilievich Platonov: Ákos Orosz
Aleksandra Ivanovna (Sasha), Platonov's wife: Erika Tankó

Set design, Costumes: Bea Molnár
Dramaturg: Judit Góczán
Assistant to director: Gergő Pelbát
Production manager: Katalin Balázs
Supporters: Thália Theatre, Budapest Autumn Festival

Opening night: 16 October 2010, Thália Theatre

Tour:
SIBFEST International Theatre Festival, Sibiu, Romania - 2012
EXPONTO International Performing Arts Festival, Ljubljana, Slovenia - 2011
REÖK Regional Art Centre, Szeged - 2010
Budapest Autumn Festival - 2010