King Ubu
Writer: Alfred Jarry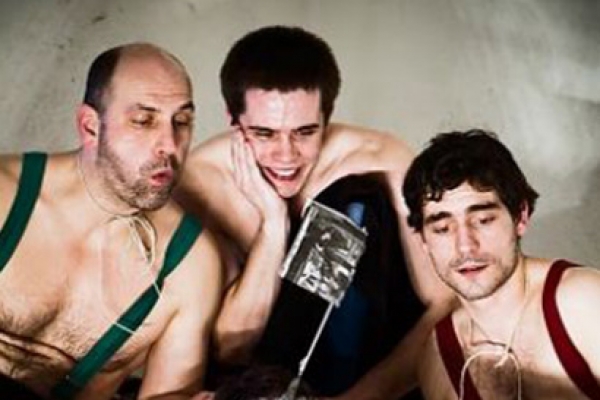 Translated by Zoltán Jékely
Director: Zoltán Balázs

Alfred Jarry's most recognised work King Ubu, was originally written as a farce and centers around Ubu Roy (a character based on Jarry's obese and incompetent physics teacher). Perceived nowadays as a significant fictional figure of world literature, Ubu Roy is an ungrateful, cowardly, greedy and sometimes childlike character. Through Ubu Roy, Jarry presents us with the foolish vulgarity and sheer madness that dominates the bourgeois in times of absolute power. First performed in 1896, Maladype's version of the play retains it's common method of performance; an animated and exaggerated style due to its elements of myth, ridicule and apocalyptic absurdity.

Maladype's King Ubu interpretation is full of endless ideas delivered with boundless fantasy and creative energy. Director Zoltán Balázs stresses the infantile cruelty of the story and it is portrayed with imagination and wit by four actors.The performance is delivered in a stylised, larger than life fashion and portrays a contemporary Ubu, integrating the current political climate..

Maladype made the rehearsals of King Ubu open, and consequently some 35-40 members of the public played the role of the "active participant" in the process. They were given the opportunity to be involved in the inventive and detailed work of the actors and the director from the initial run-throughs right to the first night of performance. This approach reflects Maladype's vision of working attuned to the audience.

At Maladype's Base (apartment theatre) the stage is a pyramid of tabloid newspapers. The newspapers influence the show as current affairs are incorporated into the farce. In this space, the four actors play with exceptional discipline and energy as the their world is infused with the contemporary media via photos and articles of celebrities, sportsmen and politicians. This makes the show especially adaptable to different locations as the newspapers change according to where the piece is performed.

Zoltán Balázs's direction is based on innovative ideas, neat improvisation and precisely conceived choreography to deliver the essence of Jarry's intentions. The wall between spectator and actor breaks as the spell of the performance envelops the audience.
Cast:
Papa Ubu: Ákos Orosz
Mama Ubu / Queen Rosemonde / Nicholas Rensky / Bea: Zoltán Lendváczky
Captain Bordure / King Wenceslas / Nobles / Phynanciers / Peasant / Councilors: Gábor Jászberényi
Boggerlas / Michael Fedorovitch / Czar / Magistrates / Peasant / Stanislas Leczinsky / Captain: Zsolt Páll

Set and costume design: Kamilla Fátyol
Dramaturg: Judit Góczán
Assistant to director: Gergő Pelbát
Production manager: Katalin Balázs

Opening night: 19 December 2009, Maladype Base

Tour:
Touchstone Theatre, Bethlehem - Pennsylvania, USA - 2014
EXPONTO International Festival Festival, Ljubljana, Slovenia - 2014
FIAT International Festival Festival, Podgorica, Montenegro - 2014
HUNGARIAN SHOWCASE, Budapest, Hungary - 2013
Fadjr International Theatre Festival, Teheran, Iran - 2013
Tamási Áron Theatre, Sfantu Gheorghe, Romania - 2011
Teatrul Act, Bucharest, Romania - 2011
The Ubu's Weekend, Divadlo Na Zábradlí, Prague, Czech Republic - 2011
József Attila Centre of Arts, Salgótarján - 2011
POSZT – National Theatre Festival, Pécs - 2010
REÖK Regional Art Centre, Szeged, Hungary - 2010

Awards:
FIAT – International Theatre Festival - Best performance, Podgorica, Montenegro - 2014