Dada Cabaret
Writer: Matei Vişniec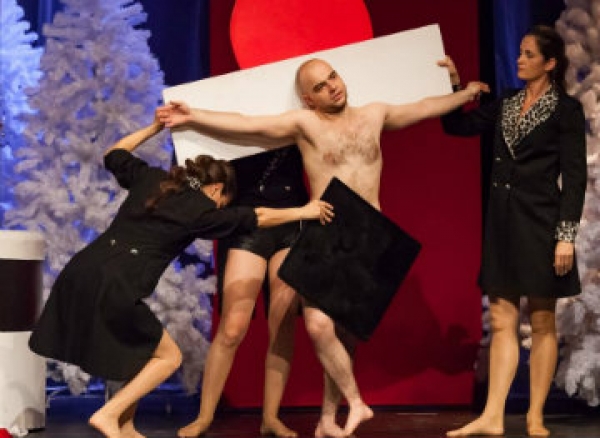 Co-produced by Maladype Theatre and Farkas Gábor Gábriel Orchestra.
Translated by Lajos Nagy

Director: Zoltán Balázs

"As this poem canon grows, spreads, people pass away, decay, loose their lives. Let's play the freak, gentleman, to avoid the draft. Pretend the insane to dispose the civilisation. Play the doltish to escape the past. Simulate the gawk to shun the future..."
From Dada Cabaret by Matei Vişniec

About the show:
An exceptionally unique medley of music and theatre; Matei Vişniec's visionary absurd play mingles with the world of baroque falsettos, movement songs, German cabarets, French chansons, music halls and variety shows. The emblematic figures of Dadaism resurrect: Lenin, Stalin and even a black cat...

Protesting against human and artistic cataclysm, mocking the conventions, borders and rules, Matei Vişniec's piece is a mirror to the insanity of bourgeois society. The central figure of this satirical manifesto is Monsieur Dada, jaded by modern civilisation, who publicly destroys the attitude and artistic self-concept of Tristan Tzara – the anarchist leader of Dadaism – with an interrogation soaked by his robotic and ruthless infantilism. The meeting of these two, called the "moment of truth", unwrap and unveil the anomaly, contradiction and distortion of this avant-garde movement which begun a hundred years ago. What is the truth about the origins of the word Dada? Does it really mean hobbyhorse, as the French-German dictionary says? Or is it a stump version of the Romanian nodding double-yes? May it be the revolutionary legacy of Vladimir Ilyich Lenin, who lived next to the Cabaret Voltaire during his emigration in Zurich? Questions seeking for answers which dredge the essence of a new artistic identity generated by the anger, chaos and frustration hidden in the tears of Dadaism to create a "tabula rasa", to destroy every established custom, cultural achievement, every pressure and censorship; to return to the zero line whence everything is possible: the elixir of Dadaism is the playfulness, the mixed languages, the unusual constellation of verbal and non-verbal signs. This is what characterizes the style of both Maladype Theatre and the author from the very beginning.

This production - unique in its musical, visual and linguistic style – is performed by the actors of Maladype Theatre – Zsigmond Bödők, Kata Huszárik, Ágota Szilágyi and Erika Tankó – together with Erzsébet Kútvölgyi, who can be seen in the role of Lenin. Gábor Gábriel Farkas, the musical director of the play also plays one of the main characters, Monsieur Dada. In this performance, the players act as actors, singers and musicians at the same time.


Performers:
Monsieur Dada: Gábor Gábriel Farkas
Tristan Tzara: Zsigmond Bödők
Emmy Hennings: Ágota Szilágyi
Sophie Taeuber: Erika Tankó
VladimirI. Lenin: Erzsébet Kútvölgyi
Nadezhda K. Krupskaya: Kata Huszárik

Orchestra:
piano: Péter Csák
percussions, drums: Attila Földesi
bass: Péter Bubu Farkas
clarinet, saxophone: Mihály Bazsinka
trumpet: Zsolt Bér

Creators:
Set Design: Zoltán Balázs
Scenery: Ágnes Czirják
Costume Design: Mari Benedek
Dramaturg: Daniela Magiaru
Choreography: András Szőllösi
Musical director: Gábor Gábriel Farkas
Director of chorus coach: Péter Csák
Associate director: Lóránd Bartha
Production manager: Katalin Balázs, Ildikó Éri
Opening night: 20 Ocober 2016, Átrium Film-Theatre